Greetings from Money Manager Team.
Typically, we do our regular update bi-monthly, but for Android, we have decided to bring new features, stability updates and bug fixes sooner than our typical update cycle. We are working very hard to ensure your experience with us smooth and satisfactory.
3.1.0 updates are on its way and the process will commence latest by 29th of December on all regions where Money Manager is available on Google Play. You can review the details of this update right below.
Reinforced Stats Tab
Existing Stats tab only supported Monthly and Yearly breakdowns, but with 3.1.0 update, you can also review your transaction history in Weekly and Periodically.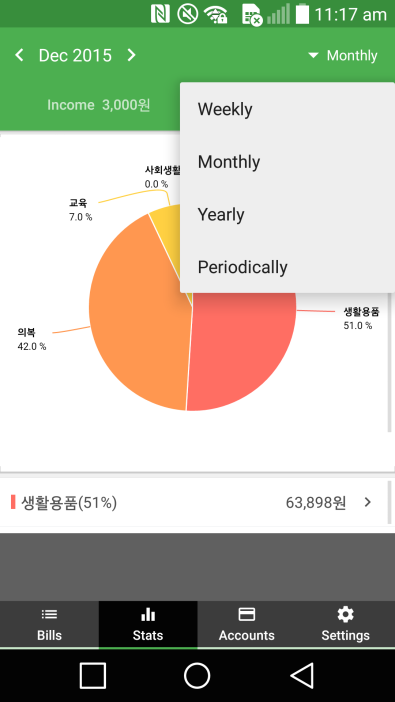 "Weekly Start Date" Now Available
Weekly start date initially fixed to Sunday, but in 3.1.0 onwards, You can choose between Sunday or Monday as your weekly start date.
Reinforced "Repeat" Function
We have added "4 Weeks", "6 Months" "Yearly" so you can configure your repeated transactions in more varieties.
Bug Fixes & Stability Updates
-Fixed an issue where "December 2015" is shown as "December 2016".
-Fixed an issue regarding errors on total and stats tab errors upon changing Main Category to Subcategory or vice versa.
-Minor bug fixes and stability updates for improved performance.